Candle Warmers, Etc. Review + Giveaway!
The Illumination Fragrance Warmer is designed to warm scented oils and wax creating the glow and ambiance of a burning candle while releasing the fragrance. Each style brings a relaxing mood to the room and elegance to any home décor.
Candle Warmers, Etc. has always prided themselves on being a flameless warmer company. I got the chance to try out one of their Holiday warmers for 2012 in 'Snowman'. As you may know toward the Fall and Winter months spring into wanting to smell 'Fall/Winter' scents, but unfortunately more fires occur and can be dangerous, even deadly. I usually always use warmers and tarts, but if I ever use a candle unless for review purposes I usually put it in a candle warmer. I've had a few family members lose half of their home to burning candles.
With Candle Warmers, Etc. your package comes wrapped secure and your box is just as festive as the product itself not to mention the scent bars are quite large!
I chose the scent 'Cinnamon French Toast' and 'Cake Bake' both which smell amazingly delicious!
Cake Bake & Cinnamon French Toast
Hand poured in the USA with our Jamie Clair line of candles these highly scented Jamie Clair Wax Melts are easy to use and bring fresh and inviting scents into your home. These melts can be re-melted time and time again until the fragrance is gone. Each scent is available in either 4 oz or 2 oz.
4 oz Jamie Clair Wax Melts
2 oz Jamie Clair Wax Melts
What does flameless looks like?
There is a bulb that looks much like a flash-light bulb that is connected to a cord that you plug-in as it is a plug-in warmer and the light heats up the top lid, but is not hot enough to catch fire of course.. just enough to melt your awesome smelling scents to fill your house with a fragrance that everyone will want to smell!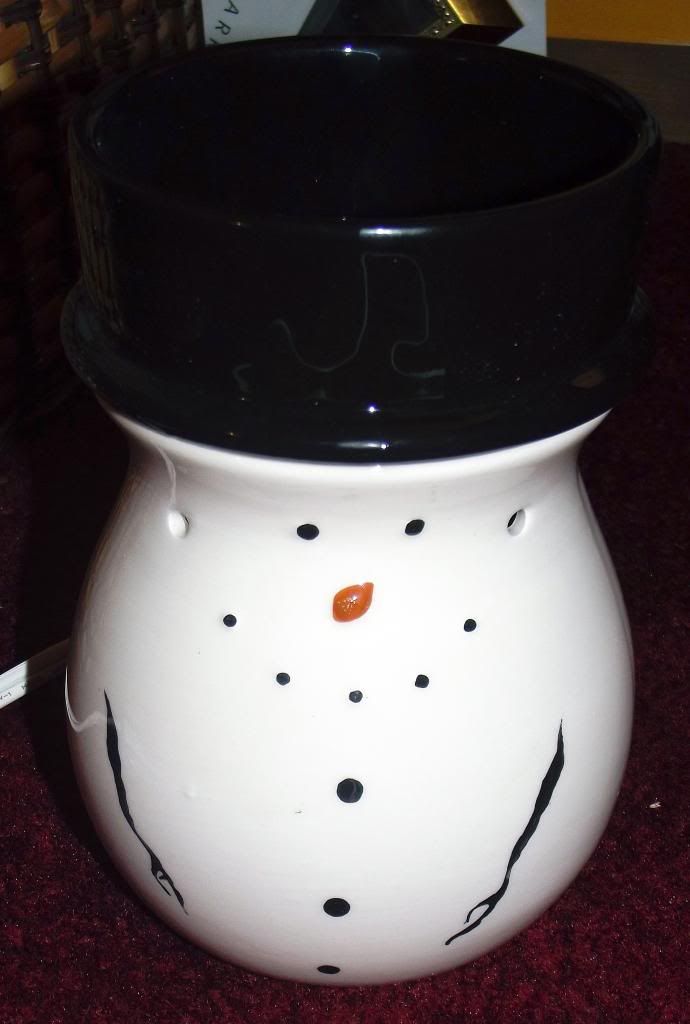 As you can see the little lid looks so cute with it's shape of a top hat. Inside the top hat you place your tarts!
Within 3 minutes of plugging in my tart in the scent 'Cake Bake' already began to melt and fill the room with the wonderful scent of melting vanilla cake icing! The 'Cinnamon French Toast' scent smells like a Cinnamon Bread with a twist of Vanilla. They both smell so good.. so good my husband woke up and thought I was making sweets!
The Candle Warmer Specifications
Length: 4.5"
Width: 4.5"
Height" 6.5"
Weight: 1.90 lbs
Electrical Rating: 120V, 60Hz, 25W
Bulb Type: NP5 Candle Warmers Etc replacment bulb
Switch Type: Dial Switch
Testing Approval: ETL Listed
*You can use tarts & fragrance oils in the warmer.
I am just blown away by the wonderful customer service team at candle Warmers, Etc.! The Candle Warmer is so cute - even more cute than pictured on the website! They have other seasonal warmers as well as a lot of different types of warmers - so many varieties! With the flameless warmer I feel a lot safer in my home even though accidents do happen they are less likely to happen when an open fire is not involved. The wax melts can be melted and re-melted so obviously that's a huge money saver and proves that the melts are highly scented and of good quality. The Warmer's lid is large and I do not have to worry about the wax spilling so easily as I've seen with smaller potted candle warmers which is a plus! Their are tiny little holes on the outside of the Snowman which is to help the warmer from over-heating. It also creates a soothing night-light effect while sitting out. I don't know the combination of the scent and light is very soothing to me anyway! For the holiday's these are a must have and would make someone a great gift, but if you check out below Candle Warmers Etc. was kind enough to let me host a giveaway so you could possibly win a Candle Warmer of your own!
For More Information on Candle Warmers, Etc. Visit:
_____________________________________________
You must do all of the mandatory tasks - it's your choice whether you want to do the non-mandatory for extra bonus points, but if you do not do the mandatory tasks all of your entries will be considered void.
____________________________________________________
FTC: This product was provided to me in exchange for my honest opinion and review.