Beautyfix Review
I'm sure you've seen my review before on Beautyfix, but this time around I got the Fall/Winter season Beautyfix box and I just couldn't hold in my excitement as you know with Beautyfix, you receive up to $400 worth of products every season for just $49.99! You create your account, browse the products chosen for the season, and you will select 8 products that will be shipped directly to your door!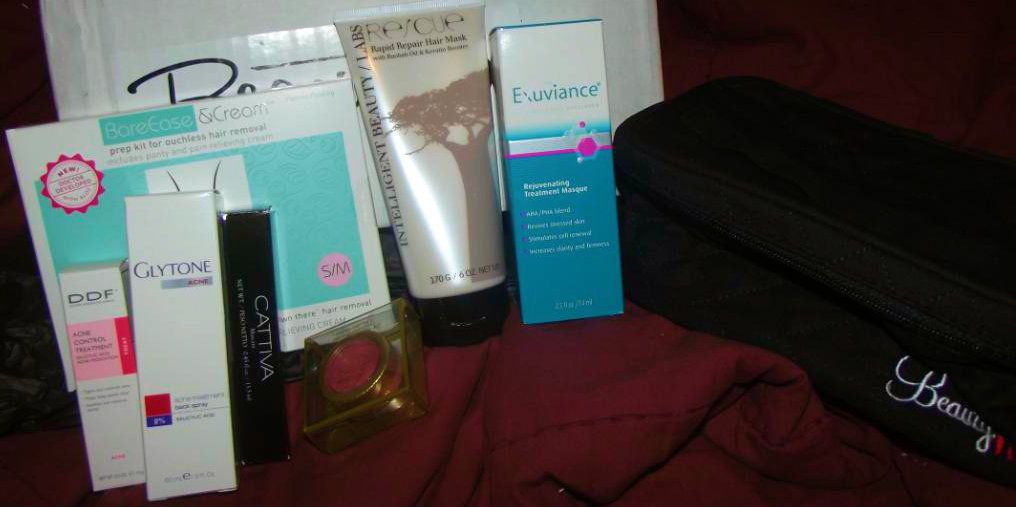 What did I get in my Beautyfix Box?
And what did I think.....
RESCUE RAPID REPAIR HAIR MASK
A nourishing hair mask for dry, damaged hair.
My Impression: The consistency of the Mask is quite thick as expected. It smells lovely. I left it on for 5 minutes while in the shower and rinsed out - It left my hair feeling manageable and I could comb through my hair easily without tugging.
24-KARAT GOLD DUST - ROSE GOLD
Turn the glow on with this shimmering powder.
My Impression: This color so gorgeous - not just a highlight/glow for cheeks, but a deep pink with a glow that's to die for. It's highly pigmented so you have to be very careful about how much you use, but when added with a light hand - GORGEOUS!
An acne lotion to control breakouts.
My Impression: I struggle with break-outs every now and again. Sometimes I just need a spot treatment so I chose DDF Acne Control Treatment as I have DDF's facial cleanser and love it - I thought why not - I wasn't fond of this treatment because it seemed as though where one break-out would clear some another break-out would form. I don't know if the DDF would have had anything to do with it, but it did it every time I applied the treatment.
Stand out with captivating lashes with this long-wearing mascara.
My Impression: This mascara is pure bling! The bling however is on the outside - the mascara itself goes on soft and comes off as more of a romantic lash. I really enjoy this mascara - the wand is very soft so it does not hurt if it happens to get to close to the rims of my eyes. The black is not the blackest black, but more of a charcoal color - very lovely.
PREP KIT FOR OUCHLESS HAIR REMOVAL - SMALL-MED
A numbing kit to achieve an ouchless waxing or laser session.
My Impression: I chose BAREEASE because I epilate every week or so and I wanted a product that helped numb the area I was epilating. I found that the cream worked really well, but you had to wait 15-20 minutes for it to take it's full effect - made my hair removal experience a lot easier and less painful!
REJUVENATING TREATMENT MASQUE
Uncover your youngest, most beautiful skin with this luxurious peel-off gel mask.
My Impression: I've heard so much surrounding Exuviance and it's acne control system so I thought why not try their treatment mask - given this mask is not only for acne, but to help wake up the skin ; rejuvenate the skin. So, I put it on - it comes out as a bluish-green color and dries to a light blue. It's a peel off mask which are always fun for me. I feel this mask provided deep moisture for my face and helped me look more awake - also gave a brightening effect as well. I can't wait to maybe try out more of their line in the future.
GLYTONE BACK SPRAY FOR ACNE
My Impression: I from time to time get acne on my back. I know gross! It's mostly where my bra rests - even though I put on a new freshly washed bra everyday I get break-outs from time to time. I've been using the GLYTONE back spray treatment for acne and though it has a take your breath away strong smell (don't worry it goes away) it works! I've noticed a major difference in break-outs. I've had maybe one break-out where as during certain times of the month I would have 3-4 break-outs and the break-out I did have was tiny and cleared up after using the spray so thumbs up GLYTONE.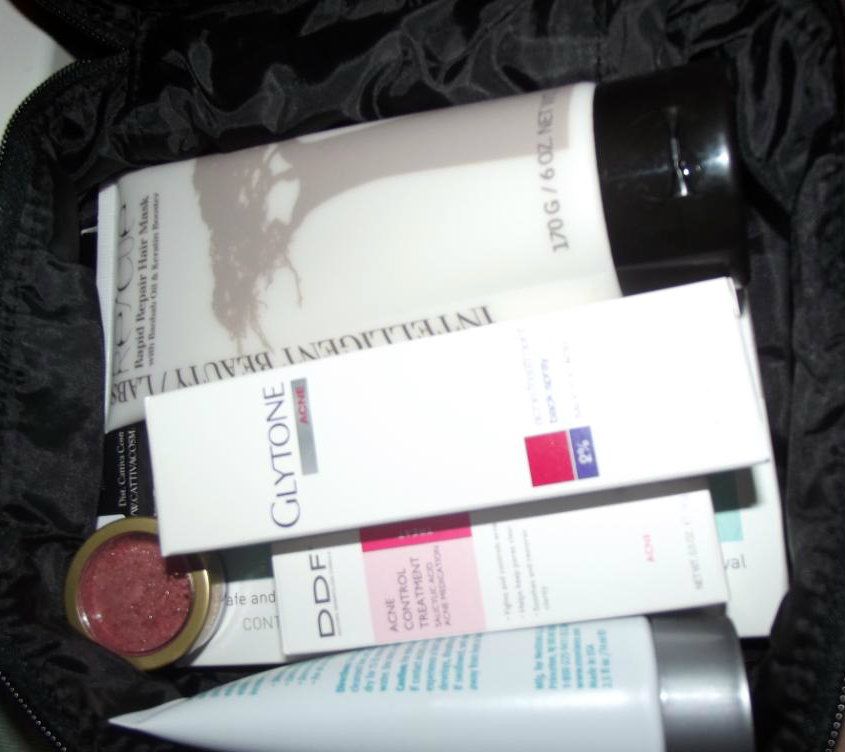 With Beautyfix you can choose from either three bags depending on stock. I chose the larger quilted Beautyfix bag and as you can see it holds quite a lot and has even more room! I've used this bag to bring my shower/toiletries with me when traveling.
My Opinion on Beautyfix: Is it worth it? For 49.99 although a steep price for a subscription service - it is seasonally which makes it a little easier on the wallet. Compared to other subscription services this box gave me all full size products - now that will vary on the website when choosing your picks - so be mindful of the sizes/fl./oz.'s of the product. I like the fact that Beautyfix when clicking on the product you are interested in gives you reviews from live people and facts about the product so it gives you a good idea of if the product you've clicked on is what you are looking for. You don't get a bag that's flimsy or a box you have to throw away, but you get the choice of either three beautiful bags to keep your items in - to throw in your purse on the go - or like mine a larger bag to take with you while traveling. All in all - this subscription service has blown me away with their products and customer service. I would recommend.
visit their social medias..
________________________________________________
FTC: These products were sent to me on behalf of Dermstore/Beautyfix for review and my honest opinion.