Grill-icious Treats by Loving Pets Review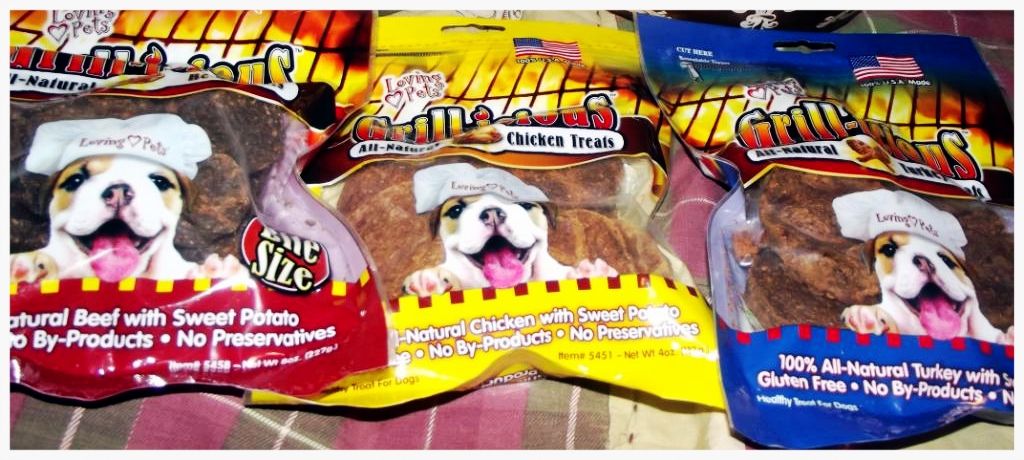 Add sizzle to your pet treat assortment with Loving Pets' new Grill-icious, 100% all-natural Beef, Chicken and Turkey treats. Made in the USA from USA-grown ingredients, these lean and tasty meat treats mixed with a touch of antioxidant-rich sweet potato will light a fire in dog's taste buds. Each treat is naturally seared over a hot grill to seal in a juicy flavor dogs love. Continuing its commitment to pure, unprocessed ingredients, Loving Pets' GRILL-ICIOUS recipe contains no gluten, byproducts, or preservatives. These all-natural treats are made in the USA, and contain only 100% USA farm-grown ingredients.
GRILL-ICIOUS treats come in Chicken, Turkey, and Beef, and available in both Regular and "Bite Size" treats.
My Impression/Dogs Impression: My dogs received the treats in Beef, Turkey, and Chicken. Needless to say when the box arrived they could smell that it was for them. So, I opened up the boxes pulled out the packages and took quick pictures so they could enjoy eating their treats. Normally, they are free fed dog food - so I skip the treats only for special occasions. This happened to be one. So I gave all of them the Beef, Turkey, and Chicken to see which ones they liked the best and you know what? They pretty much eat everything and went back for the bag! My dogs loved these. I've never seen them go after food like that.
__________________________________________________________
FTC: I received these products for my honest opinion and review.