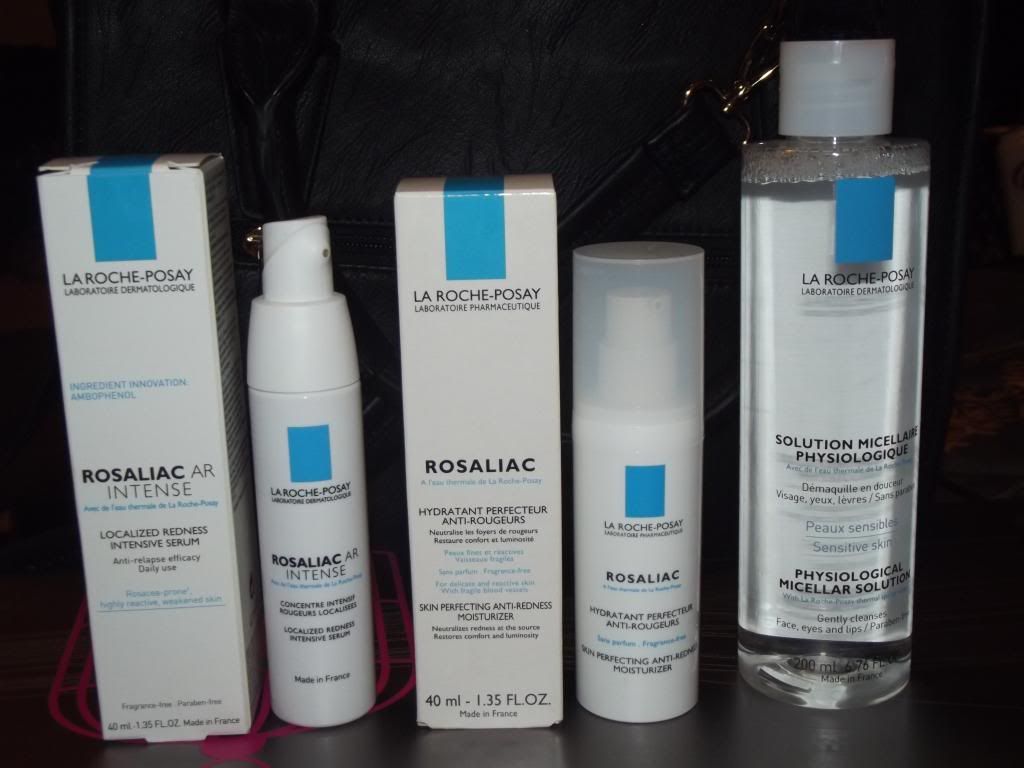 1st Rosaliac AR Intense Intensive Serum, Rosaliac Hydratant Perfecteur, and Physiological Micellar Sollution.
You may have heard the brand La Roche-Posay floating around the youtube, facebook world and if you didn't know La Roche-Posay is a skincare line formulated for sensitive skin and for various skin problems.
The first product I'm going to talk about is the '
Physiological Micellar Solution' a 3-in-1 cleanse, tone, and make-up remover.
Micelles - micro-encapsulate dirt on skin's surface and lift it up without rubbing, thereby maintaining skin's physiological balance. Optimal safety on sensitive skin with Poloxamer, a cleansing ingredient so mild it is used in contact lens solutions. Effective to remove impurities while respecting skin's natural balance.
Cleanses, tones and calms skin, while respecting its physiological balance.
Physiological Micellar Solution has won the following Awards:
2012 Allure Best of Beauty: Sensitive Skin
2011 Allure Best of Beauty: Sensitive Skin
A gentle, mildly scented texture that wipes off with a cotton pad. With antioxidant La Roche-Posay thermal spring water to strengthen skin's natural defenses.
Physiological pH, Soap-free, Alcohol-free, Paraben-free, Safe for sensitive skin.
My Impressions: I have tried a lot of cleansers, toners, and make-up removers and my tried and true great eye make-up remover has always been Mary Kay's eye make-up remover. Unfortunately, that product does not remove my facial make-up and is not recommended for your face. I got the chance to try the La Roche-Posay 3-in-1 cleanse, tone, and remover. It works wonderfully. I use various cleansers - when my face is oily I'll use the DDF brighten cleanser and when I used the La Roche-Posay afterwards with a cotton pad - the sheer amount of make-up that still was left in my pores and skin was disgusting. This product was very gentle - didn't burn my skin which is a plus - most I've tried have.
The next product I want to talk about is 'Rosaliac AR Intense' great for patients who have Rosacia. I do have redness, but not Rosacia. My Father however does have Rosacia. I tried this product out some, but mainly wanted to see how it worked with problematic skin like my Dad's. My Dad has been using this product for about 4 weeks now and it has helped with a lot of his redness in his face. He also has acne prone skin and it takes very little to break him out - so much so that he would just use Dial soap which in itself can be drying if you don't put moisture back into your skin. So, he's had great progress with this product, but I have to say it does have a syrup/sweet smell to it.
Formulated with 3 key ingredients: Ambophenol + Neurosensine + La Roche-Posay Thermal Spring Water with combined efficacy to help visibly reduce redness and irritation. Calms and soothes redness, restoring skin and leaving it refreshed.
Anti-contimanation, anti-oxidation, anti-dry residue and anti-waste.
Treatment for sensitive skin prone to redness. Helps reduce visible redness, irritation and discomfort. Suitable for rosacea-prone skin.
Highly reactive/intolerant skin
Suitable for rosacea-prone skin
Daily treatment with instant optical neutralization of redness.
Cooling and soothing effect on tingling and sensation of heat.
24-hour hydration, leaves skin feeling calm and refreshed.
Anti-relapse, long-lasting efficacy.
The last product I'm going to talk about is the 'Rosaliac Anti-Redness Moisturizer' intended to moisturize and combat redness.
This daily use moisturizer is a weightless, light green tinted formula that relieves discomfort and helps neutralize redness.
Reactive skin with redness
Helps restore lasting comfort and luminosity
My Impression: Well first, this product is definitely not fragrance free or at least the bottle I have is not. This bottle has a heavy plastic/plant/herbal smell to it. Something I just cannot handle. I'm okay with scents in my products it doesn't really bother me, but this one really took me back and made me sick to my stomach. I feel that since it does come out green - which helps correct redness because green counter-acts red.. it does help with redness. However, when I used this product id use it at night and wake up with acne .. so I switched to day use - still more acne. I don't know if it was the product because it is supposed to be formulated for sensitive skin or if it was just a switch up of products that interacted with my skin. I would not say don't go buy this product because what doesn't work for me might work for you, but It was not my favorite.
For more information on La Roche-Posay visit their social medias:
_________________________________________________
FTC: I received these products as apart of a review - all thoughts and opinions are my own.