SodaStream is the way to go for awesome soda or water drinks! This product rules, because it saves on money, it saves the environment, saves on spending money on plastic bottles! There unit is very cheap compared to most products that are trying to be like sodastream. Its all natural, all calories are under 100 and thats really helpful for people losing weight! This product also has another benefit, it has sugar free drinks, calorie free drinks! SodaStream is the world's largest manufacturer, distributor and marketer of Home Carbonation Systems. Our brands are sold in over 40,000 retail stores in 41 countries including home & electrical appliance stores, hypermarkets, supermarkets, department stores, convenience stores, DIY, specialty and "green" stores, water specialists & dealers, as well as online and in catalogs. Check out these links too for more on the company and the product: Where To Buy, Convenience, Environment, Taste & Nutrition,Value, Product Overview. You can also find them on Facebook and Twitter!
Making carbonated water and soft drinks is simple! Turn tap water into sparkling water in under 30 seconds, with no clean-up. Enjoy the freshness and convenience of homemade soda and protect the environment at the same time. No heavy bottles to carry, store at home or throw away. Fizz to your taste and add the flavor of your choice to make your favorite drink. Simple to clean and reuse. With a variety of colors and silhouettes, you'll be sure to find a soda maker to match with any decor. Made from all-natural ingredients, new SodaStream Sparkling Naturals make great-tasting "better for you" sodas. Sparkling Naturals contain no artificial flavors, no artificial colors and no artificial sweeteners, and do not contain any preservatives, making them a perfect, sparkling, natural soda alternative for the entire family. Each 750ml bottle of Sparkling Natural concentrate will make 6 liters (approximately 25 8-oz servings) of all-natural soda. Try their awesome flavors: Regular Flavors, Diet Flavors, Energy Drink, Sparkling Naturals, Sparkling Tea, Sodamix Variety Packs,and of course MyWater Essence Flavors! Drinks Makers: Pure, Genesis, Jet, Stream, Penguin; Gas Cylinders: 60-130 liter cylinders; Syrups: Over 60 flavors, regular diet, fruity, energy and tonics and
more…
Save space with concentrated sodamix and reusable carbonating bottles
No more lugging and storing heavy, bulky bottles and cans
No more hassles with empties in the trash or recycling bin
No batteries, no electricity, no plumbing
Over 30 flavors at the touch of a button
My impression of SodaStream: I really enjoy it a lot as does my family. I do think it saves a lot of money. We go through a lot of different types of soda a month. I'm trying to cut back because of the harsh chemicals regular Soda has in it. These Soda Syrups have no aspartame in them which is great! It's made with natural cane-sugar. It does taste a bit different than the Soda I'm used to drinking, but it to me tastes a lot better. It took me a few tries to figure out the right mixture of solution to put in the bottle after carbonating it. The regular Syrups make up to 12 liters. Where I live 1 (2 liter) costs about $3.00 sometimes you can find deals, but even so you are paying more than you would pay for these SodaStream Syrup Solution bottles they run about $4-$5 at my local Walmart. It's quite easy to do once you figure out the right amount of exact carbonation you want. It recommends on the top of it to hold down 3 times firmly, but quickly until you hear a buzzing sound then you can unscrew it from the system and add your flavoring. Our favorite has been the Diet-Lemon Lime. You can add more flavoring or less depending on how you like it. It keeps well in the plastic bottles they come with. They are BPA free so no harsh chemicals! The kit also comes with a lot of samples enough for one liter to try. My husband's favorite of course out of the sample packets was the ENERGY flavor. He says he's wanting me to pick up some of that the next time I go shopping. He said it doesn't make him nervous like other energy drinks does so I like that it doesn't do that to him even though Id rather him not drink energy drinks. Warning: Do read the instructions well so you avoid any incidents. I put solution in mine first by being too excited and ended up having the effect of having soda sprayed all over my face! Haha!
All in all I give this system two thumbs up! I'm looking forward to seeing how much money we saved at the end of the year!
*GIVEAWAY*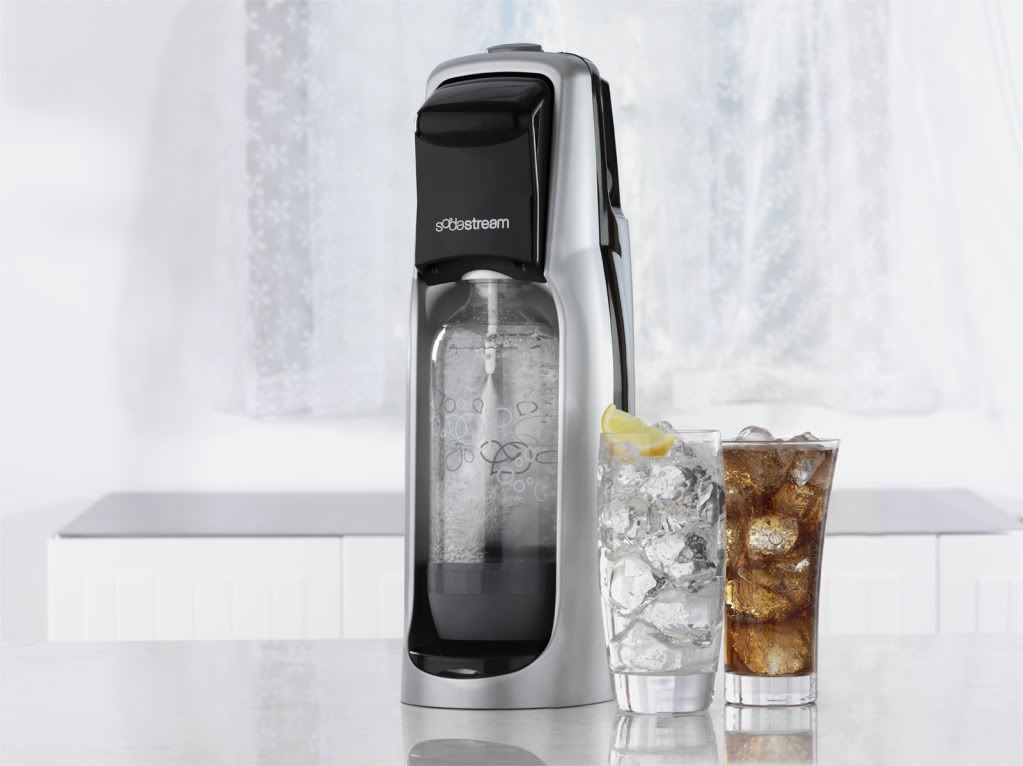 For more information on SodaStream visit: http://www.sodastreamusa.com/
This product was sent to me on behalf of SodaStream for review purposes however my thoughts and opinions are my own.