Cortex Review from FlatIronExperts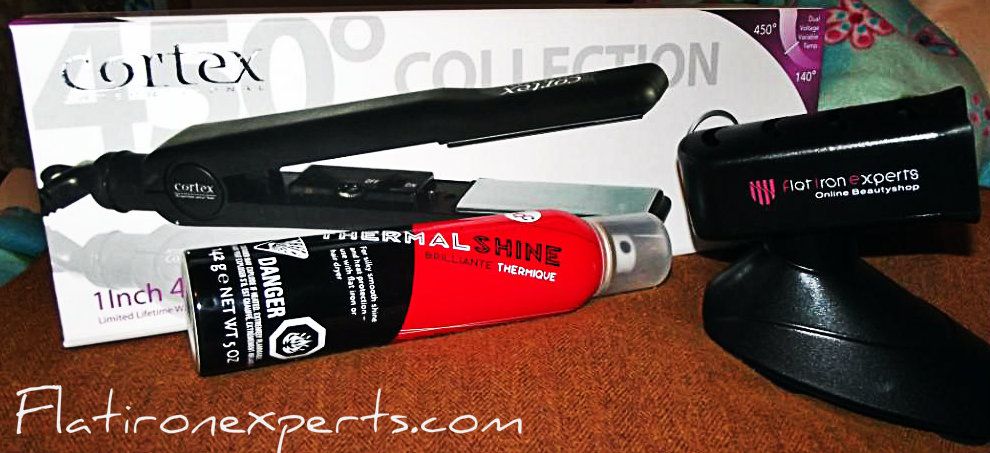 Cortex Solo 450 Collection is new to the market and made for professionals in the beauty industry. You probably could have guested this iron heats up to 450 degrees F, the hottest in the market. Adjustable heat and ergonomically designed this flat iron can be used on ultra thick frizzy hair or ultra thin hair. The results are amazing!
Nano Titanium Technology : provides lightweight strength, has a super hard, smooth surface for snag free styling and even heat distribution. Titanium plates is also an exceptional conductor of hear that emits negative ions and far infrared heat.
1. Preserve more moisture within the hair shaft
2. Eliminates frizz and close the cuticle to create smooth and shiny hair
3. Causes less damage to the hair cuticle during styling
Negative Ion Technology: Negative ions are atoms that can stop the growth of bacteria, fungi, etc., resulting in healthier hair and scalp. Negative ion energy is powerful enough to break apart clusters of water molecules. The smaller water molecules penetrate into the hair shaft by slipping between the cuticles, adding plumpness/volume to hair. The bombardment of negative ions also closes the hair cuticle, which is very good for the health and appearance of the hair.
Far Infrared Heat : Far Infrared (FIR) rays are electro-magnetic waves of energy, totally invisible to the naked eye, capable of penetrating deep into the human body, including the hair shaft. It therefore dries the hair from the inside out. The result is that more moisture remains in the hair shaft and there is less damage to the hair.
FEATURES
Titanium plates for healthier hair and a high gloss shine

Professional Salon Model

Adjustable temperature to 450°F for easy use

Heats up in less than 6 seconds

Straighten, flip or curl your hair

The innovative PTC ceramic heater heats up in a flash, and stays at the temperature while styling

Negative Ions promote smoother, silkier hair

Far infrared technology distribute heat evenly, preventing damage

Sleek, ergonomic, non-slip grip designed for professional comfort

Variable temperature settings for all hair types

Hooked end for salon professional storage and easy hanging

Professional 360° swivel cord to prevent tangling

Dual Voltage - 110 - 220, 60 Hz

Limited Lifetime Warranty
My Impression: Thanks to FlatIronExperts I got the chance to try out their new Cortex Solo 450. I've tried a lot of flat irons in the past, but only few have met my standards to what I think a flat iron should be. This flat iron is not my favorite flat iron, but it would be my second choice flat iron because it does curl my hair better than my other flat iron. It does straighten my hair the only thing that I have to say that made it a second choice is that I felt like it dried my hair out after using it after I washed my hair - now on second day hair it's fabulous! It straightens your hair fast - I usually only need one swipe to go through my hair. I love that the dial is on the inside so that I am not constantly turning the flat iron off. This flat iron is more easily handled than most - it has a bit of a edgy grip to it so that I don't drop it or burn myself. I think this flat-iron would be really great for thicker hair. I think I experienced the drying effect on the first day hair because my hair is really thin - then again I could of had the setting too high - even on a low setting it does straighten my hair pretty good. All in all I would recommend this flat iron - I think out of the many I've tried it's fantastic.
__________________________________
FTC: I received this product through FlatIronExperts for my honest opinion and review.