Garnier Fructis Hydra Recharge Review

Infused with superfruits, the Hydra Recharge formula actively replenishes hair for silky-soft hydration that lasts. Hydra Recharge will recharge your thirsty locks and keep your hair super silky and surprisingly weightless for up to two whole days.


Hydra Recharge Shampoo is a hydration innovation; the first to feature thousands of beads that burst on impact.
Hydra Recharge range contains superfruits goji berry, passion fruit and kiwi to actively replenish without heaviness.
Hydra Recharge 1-Minute Moisture-Plenish Treatment is a powerful deep treatment whose revolutionary lightweight crème-gel formula transforms dry hair with a surge of high-performance hydration in just one minute.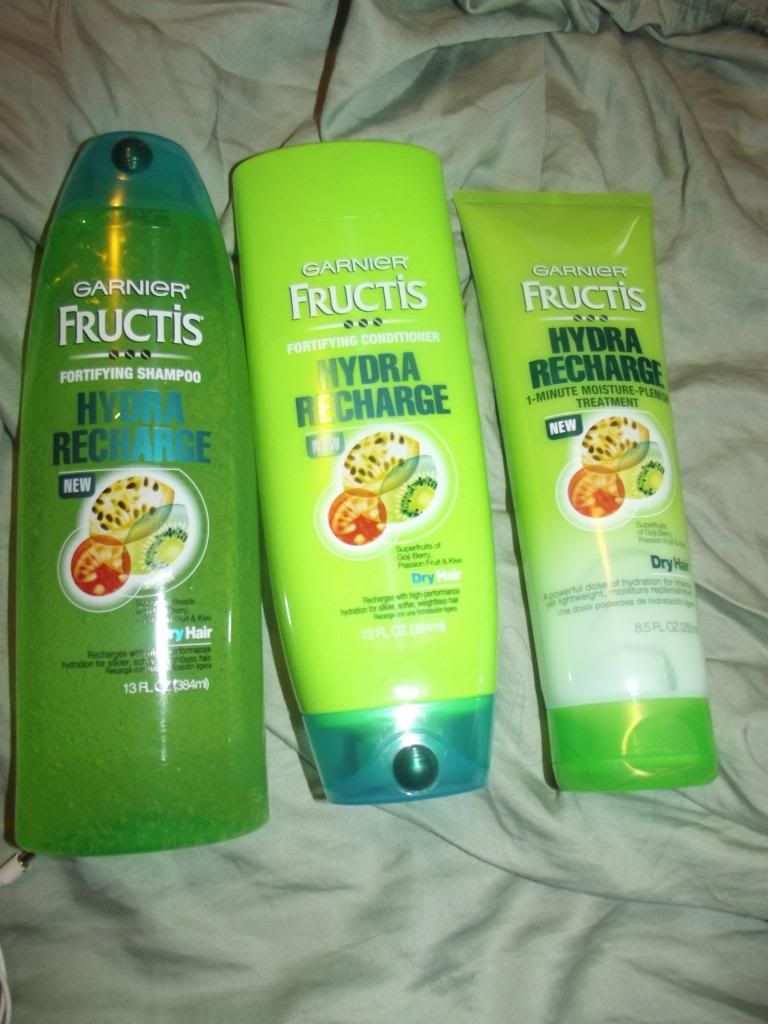 My Impression: I received Garnier Fructis as being a Bzzagent. I was so excited to learn about getting into this campaign. When the kit arrived I tried it that night and have been in the process of trying it out for about 2 weeks now. First trying the shampoo it was quite thick - thicker than what I'm used to and although I loved the beads that were infused into the mixture I was not a big fan of the shampoo as it felt as though it dried my hair out which is odd because this line is formulated for dry hair, but I guess because it is a fortifying shampoo and conditioner line it somehow stripped the build-up out of my hair maybe? Now onto the conditioner - the conditioner is very thin light texture and is not one of those conditioners that immediately sink right into the follicle which is what I'm used to, but it did however make my hair less of a mess to brush. Now onto my favorite item which is the 1 minute moisture replinish.. I honestly love this deep conditioning product. I leave mine on for a bit longer than a minute, but it's fantastic. It leaves my curly locks so soft. I will say even though the shampoo and conditioner had a drying effect on my hair while styling my hair it did however have a lot less frizz and was more easily worked with. All in all I think I had a success with this line despite not being used to the dry texture of my hair at first I think that the 1 minute moisture replinish is something I would buy again and I would purchase the shampoo and conditioner as a once a week build-up remover.
For More Information on Garnier Visit Their Social Medias:
_______________________________________________________
FTC: I received this product as apart of using BzzAgent and being a BzzAgent.