Melt Spread Organic Review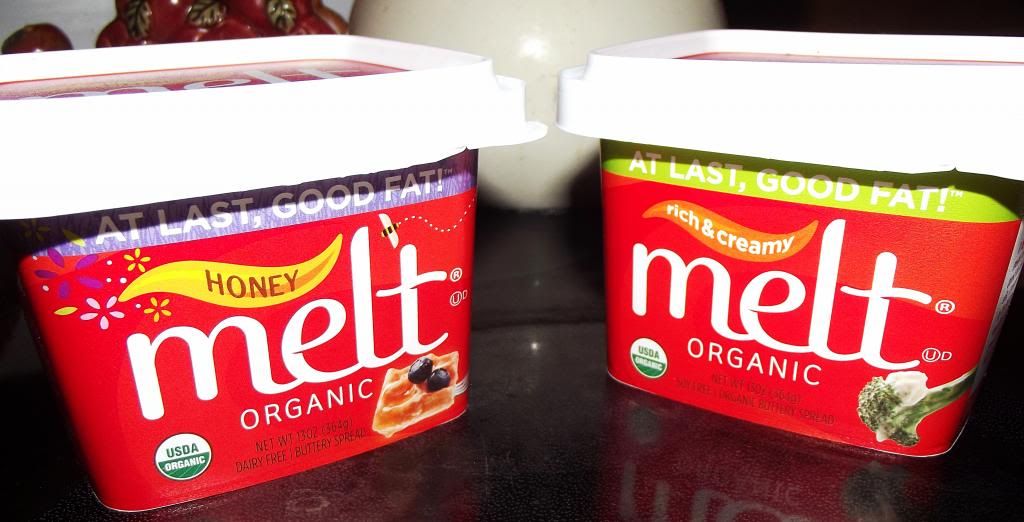 About Melt Organic from Melt's Website
Rich & Creamy Melt® Organic was recently featured on the nationally syndicated Dr. Oz show (http://www.meltbutteryspread.com/dr-oz/) as a healthier alternative to butter and is made with "good" fats! Melt® Organic is made with the Perfect Blend™ of fruit and plant based organic oils – virgin coconut, flax seed, high oleic sunflower, palm fruit and canola – that are carefully chosen and optimally blended to be good for you! Each variety is certified organic, kosher, gluten-free, soy free, non-GMO, and fair trade.
Melt® Organic sizzles, drizzles, cooks, bakes and melts just like butter but with half the saturated fat and fewer calories. That means you can use both Melt and Honey Melt in all of your favorite recipes. Please visit our recipe pages for ways that our Melt fans have baked and cooked with our products (http://www.meltbutteryspread.com/tips-recipes/recipes-main/). Best of all, Rich & Creamy Melt® Organic is deliciously creamy with just a hint of coconut flavor (yum!). Honey Melt® is naturally sweeter with organic wildflower honey and cinnamon for just 1 gram of sugar per serving. Say Goodbye to Butter, Say Hello to Melt® - the luscious butter improvement that is truly good for you.
My Impression: I am a butter-o-holic. I love butter. I'm like Paula Deen. Unfortunately, too much butter is not great for the body so I was in search for a healthier alternative when I came across MELT. I've tried low-fat butters - to different types all having such an odd and awful taste, but I was really excited to try Melts Buttery Spread both in the Organic Original and Honey Melt. I made waffles up above and added the Honey Melt on top and it tasted amazing. It was like fresh honey with a blend of cinnamon. Very delicious! I also love stir-fry vegetables - I find they are easy to make for a snack and I love just a hint of butter on my broccoli - not much, but some so I decided to go ahead and try the Organic Original one and I could really taste just a hint of the coconut oil, but it was really good as well. I cook with coconut oil sometimes in my stir-fry so the taste was no stranger to me, but I really love that both weren't bland and didn't have a chemically taste to them if you know what I mean. They tasted natural and I didn't feel guilty about eating it either. I've heard the Honey Melt is great with apples so I might try that out and I imagine it would since cinnamon apples taste so well together. I see a future steamed apple recipe in my future!
FTC: I received this product for my honest opinion and review.