NUMI ORGANIC TEA REVIEW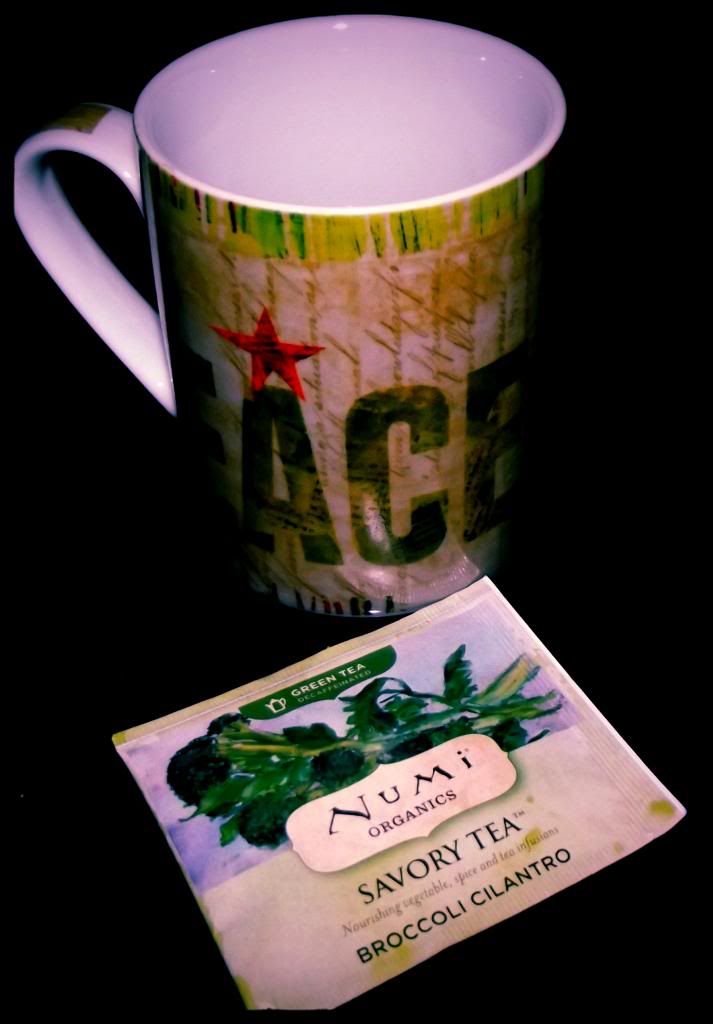 Founded in 1999 by brother and sister team Ahmed Rahim (the alchemist) and Reem Rahim (the artist), Numi Organic Tea is a purveyor of premium quality organic, non-GMO and fair trade certified teas and teasans. Numi blends its organic leave teas in a solar-powered facility with only real herbs, fruits, flowers and spices—not unnecessary "natural" flavorings or perfumes. All Numi products are packaged in recycled-content containers and non-GMO verified biodegradable bags and are available in retail outlets in more than 30 countries worldwide, including the U.S., Canada, the UK, Denmark, the Netherlands and online at www.NumiTea.com. An award-winning social enterprise and founding B-Corporation member, Numi supports community development projects worldwide. To learn more, visit NumiTea.com and follow Numi at Facebook.com/NumiTea and Twitter.com/NumiTea.
Numi Organic Tea Announces New Savory Teas
Vegetables, Herbs and Spices Combine to Create Innovative New Tea Flavors
This winter, Numi Organic Tea, long known for innovation in the world of tea, is proud to announce an exciting new taste sensation: Savory Teas. Real organic vegetables, wild herbs, decaf tea and aromatic spices are combined in the new collection of Numi Savory Teas, created to provide a unique and original taste experience for tea lovers.
Inspired by recipes from around the world, these veggie-spice-tea blends are rich in flavor, yet light enough to enjoy any time of day. Each exciting flavor is an adventure in taste: not quite a soup, but more than a tea. New flavors, never before offered in tea, include Tomato Mint, Carrot Curry, Fennel Spice, Spinach Chive, Beet Cabbage and Broccoli Cilantro. Delicious and satisfying, Numi's Savory Teas have five calories or fewer, are Certified Organic and Verified NON-GMO.
Since its inception, Numi has been known for pioneering new tastes and styles of tea in the United States. Now, once again, Numi offers blends that represent an entirely new way of thinking about and enjoying tea.
"From the day we opened our doors just over 13 years ago, Numi has made it one of our mission to be the most innovative brand in the tea industry," says Ahmed Rahim, CEO and chief alchemist for Numi Organic Tea. "We pioneered Rooibos, Honeybush, Flowering Tea™ and the first full line of organic pu-erh teas to the U.S. market. In order to produce a high-quality cup of tea our tea'm travels the remote corners of the globe to find the most delicious and exotic organic teas and herbs. Our new Savory Teas speak to our creative innovation and make for a truly unique tea experience."
Numi's Savory Teas invite consumers to get cozy and warm up to the savory sensations. They can be a satisfying, low-calorie snack alternative, a great complement to a light lunch, a delicious brew for cooking rice or noodles, a comforting cup when a cold or flu strikes, a pick-me-up on a hike or camping trip, an easy-to-prepare mood booster at work or on the road, or a perfect pairing to cheese and crackers. Whatever the occasion, Numi invites tea lovers to delight the palate and enjoy a comforting cup of garden goodness, one savory sip at a time!
All of Numi's tea blends are 100% organic and pure-tasting because each blend is made with premium, full-leaf quality tea and real fruit, vegetables, herbs, and spices (not fragrances or perfumes). Consumers can choose from six flavors and a combination box, each containing 12 tea bags, with a suggested retail price of $7.99:
This bright Mediterranean infusion is reminiscent of the sweet savory scent of stuffed grape leaves (dolmas). The combination of ripe tomatoes, mint leaves, decaf black tea, a touch of cinnamon and lemon peel makes for a zesty, mouthwatering cup.
Layers of steamed spinach greens give way to the mouthwatering fullness of this savory brew. The citrus notes of Numi's Dry Desert Lime tickle the roof of your mouth as coriander teases your taste buds. Dill, chive and decaf green tea are the perfect finish to this well-rounded, yet complex, blend.
Coaxed by the soothing scents of freshly cut fennel, this crisp concoction will transport you to the enchanting European countryside. The soaring flavors of sweet licorice envelop the earthy fullness of celery root while slivers of orange peel and decaf green tea delight the palate.
Be transported to the heart of India with the rich exotic flavors of curry, turmeric and ginger. Kissed by sweet carrots and bright cilantro, the earthy, vegetal and piquant notes are marvelously woven together into this full-bodied blend.
As pungent aromas lure you into this abundant garden, the hearty flavors of broccoli, celery leaves and cilantro capture your palate. Turmeric and decaf green tea deliver a peppery roundness. Come home and relax to a cup of Broccoli Cilantro's sweet lingering taste.
A bright crimson hue welcomes you into delightful scents of clove. This smooth buttery blend is rooted with beets and cabbage and delicately spiced with mustard seed and coriander. The finish is accented by sweet notes of apple and decaf black tea.
A cornucopia of vegetables herbs and spices await you, ready to nourish and warm you from the inside. This Garden Sampler holds a variety of our delicious and satisfying Savory Teas. The box contains two bags of each of the new flavors: Tomato Mint, Carrot Curry, Fennel Spice, Spinach Chive, Beet Cabbage and Broccoli Cilantro.
This revolutionary new product was inspired by recipes from around the world and each exciting flavor is an adventure in taste: not quite a soup, but more than a tea. New flavors, never before offered in tea, include Tomato Mint, Carrot Curry, Fennel Spice, Spinach Chive, Beet Cabbage and Broccoli Cilantro. Delicious and satisfying, Numi's Savory Teas have five calories or fewer, are gluten-free, Certified Organic and Verified NON-GMO.
Savory Teas are now available for purchase through Numi's website (http://www.numitea.com/savorytea) and found at some WholeFoods!
Suggested Retail Price: $7.99
Available beginning February 15, 2013 at NumiTea.com
and beginning March 15, 2013 at select Whole Foods stores
My Impression: This Winter/So Called Spring has been a nightmare. I've had colds off and on due to mother nature not know which way is up or down. We've had rain, warm days, snow days, mixed days - WE JUST WANT SUMMER NOW! Through these times and especially this month I was able to try tea from Numi Organic Savory Tea. I jumped on the chance and chose the flavor 'Broccoli Cilantro'. I love broccoli and I thought it would soothe my cold and soothe my cold it did. I made a couple of these bad boy tea's to help with my congestion and sore throat and they tasted amazing. Given my nose was partially stopped up, but I could smell the spiciness as my nose cleared up. I don't know what it is about vegetables or teas, but they always seem to make me feel a lot better when I'm sick. Now that I am not sick I still at night make me a warm glass of tea and it helps me get to sleep. I find it helps me rest at night and plus it has green tea which is great for you as well! I can't wait to pick up a sampler box so that I can try all of the teas. As much as I love vegetables I'm sure I'll love them all.
______________________________________________
FTC: I received Numi Tea as apart of my review and honest opinion.